The Forge at Palmer Hills: The family that putts together has fun together
By Kiel Christianson
The Quad Cities of Moline and Rock Island, Illinois, and Davenport and Bettendorf, Iowa, offer bountiful golf. Nearby Silvis, Illinois, even hosts a PGA Tour Event, The John Deere Classic, at the spectacular TPC at Deere Run. But the area's courses don't just cater to the core golf demographic. There are also plenty of opportunities for novices, juniors, seniors, and the "golf-curious" to explore and experience beautiful facilities without investing hours of time or hundreds of dollars.

Most people don't realize that St. Andrew's Links in Scotland is a massive municipal facility. Similarly, the Quad Cities' municipal courses epitomize the best of America's daily fee, public-access, community-owned golf, carrying on the long history of accessible, affordable golf. Palmer Hills in Bettendorf is one of the best examples in the nation of a municipal facility that feels and looks like a country club. With the addition of The Forge, its new 18-hole putting course, Palmer Hills seeks to engage even a wider swath of the golf-curious public.

Palmer Hills Golf Course is a William J. Spear design that opened in 1974. The par-71 layout stretches to just over 6,500 yards from the back tees, and has served as the venue for multiple local and state championships. It's the home course for local high school teams, as well as the training ground of one of last year's Drive, Chip, and Putt competitors, who competed in the finals at Augusta National. About 14 years ago, the clubhouse was completely redone, and the Palmer Grill draws large crowds of non-golfers for its lunch and brunch specials. Conditions rival those of any course in the area, including private clubs. Nevertheless, green fees max out at just $46 (with cart) on weekends.

Head Greenkeeper, Brian Hickey, has a degree in turf management from Iowa State and has earned awards from national greenkeepers' associations for his stellar work at Palmer Hills. Under his watch, the course has expanded the driving range and practice facilities as well as added The Forge.

The Forge itself consists of 4 separate greens, the second of which measures 30,000 square yards. Each green contains at least a couple of the 18 holes, which are routed out and back. Tee stands and holes are placed daily in new positions to reduce wear, and tee markers are designed with extremely useful drink holders. (A putting course is ideally suited for pairing libations and competition, after all.) The pristine bentgrass greens run at the same speed as the main course, right around 11 on the Stimp meter.

There is no par on any hole - the scores just are whatever they are, harkening back again to the roots of golf when par didn't exist. The flexible routings at The Forge bring to mind The Loop, the reversible Tom Doak course in Roscommon, Michigan, which plays in both directions, alternating from day to day. Tee boxes there are also just sort of positioned in the ground daily at various spots.

At just $8 for adults and $5 for kids, the tournament-quality putting course is competitively priced with and far more enjoyable than your standard "putt-putt" golf courses. There can be some severe breaks, but nothing is tricked up - players of The Forge will get a feel for what it's like to putt on a REAL golf course, and might just catch the bug to get out and try the full-sized course. The lovely views from parts of The Forge onto the championship course are also quite enticing.

"Golf" means different things to different people. But golf should NOT mean exclusivity or inaccessibility to anyone. Municipal courses like Palmer Hills stand as exemplars of what golf can mean to everyone: accessible family fun in a beautiful, sustainable environment. The main course has instituted a new teeing system that allows for enormous flexibility in teeing forward, allowing for a more pleasant and competitive experience for seniors and beginners. And The Forge serves as a gateway for anyone-golfer or not-to experience this jewel of the Bettendorf Parks system.
Revised: 08/10/2023 - Article Viewed 493 Times - View Course Profile

About: Kiel Christianson
---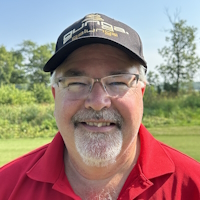 I've been a travel and golf writer for online and print publications for 25 years, including over 10 years with The Golf Channel. My blog on The Golf Channel websites began in 2003, making it one of the first in the golf world. Other publications include poetry, food and travel features, and research articles in the broad area of cognitive science.
---
More Articles by Kiel Christianson